Hehe. Have been neglecting my blog uh. :/
Tests week! Pom test today. My day started badly. I'm trying not to let it affect me. Not worth it, none of my business and... Get use to it. I thought I am pretty immune to such stuffs... Apparantly not ah. But I forgot about it after meeting Jas and Jm to go to school together. Hearrrts. Hehe.
Test was alright I guess. All I studied came out and those which I skipped didn't come out. Risky but... No time ah. So much memorising to do. Wait till Wednesday man... Csa. Confirm die. :[
26th May'09, Changi Airpork to stardy.

Sok Keang!
Hehe.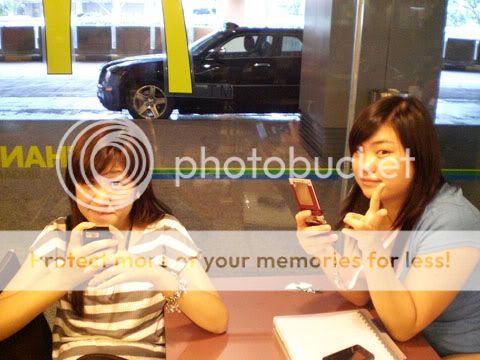 HAHAHA EVERYBODY LOOKING HAPPY... I look extremely happy... :[
Derek like to take photos, blurr photos. (more at fb)
27th May'09, Csa and Changi to study agn!
Csacsa
Julie in hoodie.
HAHA.
After studying, sky train hehe.
28th May'09, Ehub(

supposed

to study)
Before going back for commskill.
Kenny cut botak!
HAHA.
Derek wanted to use this. Hmm.
Kellynn!
Kim!
29th May'09, Dinner!
Happy Wilson.
Jm<3
Ym's toy.
More photos at fb... But I can't seem to upload. :[
Hehe so last week was all about
studying
. With my classmates. I like studying with them because... It's quite fun. Hehe. Laughed alot... Because Derek sho funny. Hmm. :D
Ok. I need to study liao. Attending Helen's D&D tonight. Yay free meal and ride at SG flyer. Excited. Must study microecons first. If not tomorrow die ah. ;D
Bb muggers.
Everything

is easier when you say it in your

head

,
but when you

have to

say it out loud,
it's

100 times

harder.