Graduated! Amusingly, I was sad but not THAT sad. I have no idea why. -o- Just that the thought of seperation in the future can be quite... heart wrenching? Maybe its because I know I will still see these people during O levels. Maybe it's because I've got some assurance from people
(who matters)
that we will still meet in the future. Maybe thats why...
Ahhs, I received quite a few cards today and they are so nicely done... Mine seem so fugly when compared. ;[ Sorry, my art still didn't improve after all these years... Hehehes. Still, its the thoughts that counts... ;D Hehehes. Although I wrote some small dedications in those small little fugly cards I made, there are still some stuffs I really wanna say.
To my dearest girls and babies, I really really feel very fortunate to have friends like you girls. Hehehes. I know I'm not really a great friend because I'm not always with you all when you girls face problems and stuffs. Though I feel tiny weeny bit left out at times, its totally unavoidable. Yes, I do feel loved when you girls are willing to wait for me during recess. And ya, the babies when I can't be with them during recess. Erm ya. Thank you

M

for being so understanding cause I may not be always there with you like a 'normal' BFF. ;[
HAHAHAS. This is complicating and you won't understand these unless you know the context. (mr tan) Yes, that kind of summarise everything. I hope?
Hehhees. The uncle who helped me laminate the photos was kind, very kind. ;D
Met with the babies for breakfast.
4E6'08
Flash isn't that bad, right? ;/
Holy light.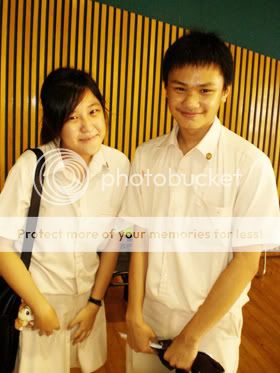 SMELLY.
Mr Tan. ;D
Carrdds. ;D
One graduation post took me 1 whole day. Photobucket wasn't working! Initially it stated all 86 photos are being uploaded then I went to check. ONLY 26. I WAITED FOR HOURS OK. Imagine how pissed off I was. Sucker... ;[ Ok, that's only 1/4 of those photos. No point uploading all right...? Randomly picked some. Didn't recieve alot of photos.
My dearest babies, photobucket... ;D
Wah, this is an extremely wordy post... One last thing...
I AM GOING ON HIATUS!
Hehehhes. I'll be back before you know it!
I am going to uninstall my MSN and set Criteron as my homepage .
You can still message me if you miss me.
I AM NOT KIDDING... I find this machine a big distraction. Distraction number 2 is my bed. ;D
Last last really last thing ok...
MY BIRTHDAY IS ON

23RD OCTOBER

!
I will be in school on the 22nd HEHEHES. You can make me happier by sending me a message. I will be really happy... ;D Hehhees. Bbq on 12th I think? You make me happy, I invite you. HAHAHAHS. No la.... ;D
Till then.... ;D
Something

tells me that

whatever

happens with us,
whether we

stay together

or go our

separate ways

,
neither one of us will ever forget the time we

spent

together.