HI. ;D
I'm happy. Shopping with M yesterday! Happier because there is Graffiti Cafe at fep and we shared pontian wanton mee. Even happier because we get to talk alot. Hehehes. We bought bff keychains again! Byebye headless Tommy. I feel guilty whenever I look at him... Anw, say hello to Patrick and Pete! :D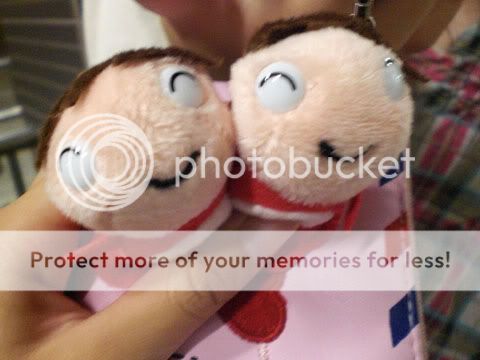 Had dinner with Chiamin, Shien and Meiqi! YS and G couldn't make it. Thai express-ed. Had some omelette and rice. I bought some more new stationaries. Need colours to make lectures more interesting. OH YA I'VE A NEW PENCIL CASE TOO. HAHAS. A bigger one. ;D
Yummz
Yummz x2
Choosing nice face.
Yamakawa-ed.
Ok! I hope I won't be late tomorrow... I hope Kimberly won't be late too. :D 10am microecons tutorial. Sianzxzzzzzzz... Wonder what will we be doing during the 3 hours break. :/
Be happy M, be happy. He is nothing but a cotton ball. No, cotton balls are cute. He is nothing but a... wintermelon (no offence to wintermelon fans but it stinks). Remember, I'm just a phonecall/click away. Love you! Uhm, and good luck for your geog test. HAHA.
Nights buttercups, tomorrow will be nice.
There are so many things that we
wish we had done yesterday, so few
that we feel like doing today.