Lemme blog about yesterday...
Hmms. Caught The Wedding Game at Tampines Mall. Ok la. Wouldn't say its very nice but its not very bad too. HEHEHES. Just...
Ok lor.
;D Went to Yiming's house, Charmaine's house and mine. Supposed to go to more houses but everyone was busy gaaambling.
Sis-in-law sort of join us. I think she scared Wilson. Hehehes. He was winning alot at my house. ;D I was losing initially but sis-in-law helped to win it back. Hehehes. Plus a little more. ;D
After that... I went to Marissa's house to have steamboat. Gambled abit too. ;D Checked the posting for Marissa, Chiamin and Shien. Hehhees. They applied for Mjc. Went down to have some food and Gillian went homey. ;D
Stupid wind.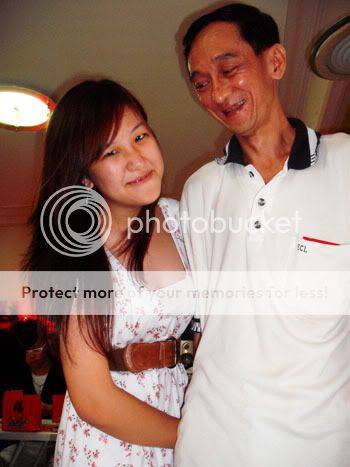 Daddyyy
Hehehes. Took alot of photos at Marissa's house. Fun fun. Those photos will not be uploaded... anywhere. HAHAHAS. ;D Uploaded 3 of them. No, make it 4. Previous previous post. ;DD
Had breakfast and went home. I slept from 9 to 5. I think I msg-ed people while I was semi conscious. ;D Ahhh.. Pimples are popping out... Late nights. Sighs. Time to start sleeping early... ;D
Ok... Goood nighhhhht!
Relationships are worth fighting for.
But you can't be the only one fighting.