yesterday yesterday yesterday.
its a super looooong and wordy post.
mummy woke me up at 6.30am because SHE have to lit the candles. -o- i went back to sleep after that. :] woke up at 10 and went to prepare.
and yes, the tag. maybe i was the first one to see it and told yanshan about it. i am quite sure that i know that person. :] wait till i remember my cbox id and pw.
around 11 the bride and groom came. :] some stupid 'rule' says that everyone in the house must hide in the room. to prevent zodiac clash or something.
den quite alot of people came. ate. tea ceremony. bro got sabo-ed to drink 苦瓜汁. when he reach our house, he rush to the toilet. -o- diarrhea.
i had to serve bro tea too. -o- i only said. 喝茶。and mummy scolded me. -o-
super urber cute flower girl. xD
after a while everybody left and aunt bought me to tm to have some last minute shopping. :] she gave me a pair of earrings to match my necklace and a hairband which made my head 'cramp'. -o-
rush to salon to have our hair done while mummy went to have her makeup which is.. horrible.. bro pay. hehehe.
and then mummy was overly excited again. scolding people at the smallest thing. like. WHY NEVER OPEN THE WINDOW. YOU TAKE MY HAIRCLIP ISSIT. STOP MOVING AROUND LA. etc.
super irritated that time. i know daddy feels the same way.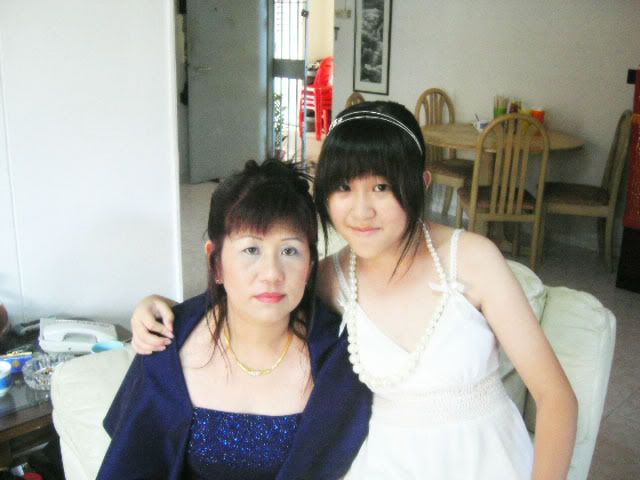 and den we left for the hilltop restaurant. its seriously at the top. -o- if i didnt look at the sky and say that its going to rain, we will take an hour or so to find that freaking place. -o- we spin around bukit timah for 1/2 hour and ive got car sick. -o-
but the place is very nice. super nice scenery. super big nice ballroom. super nice service. i guess.
bro's in-law side who are the kiasu ones asked for many tables. but many didnt turn up. unlike ours. everyone turn up. :]
i was put in charge of the freaking seating arrangement and i have to bring the people to their tables. but i guess its somekind of gathering for everyone. when i was walking to the tables, i was expecting them to follow but when i turn. i was walking alone because the people were talking to their friends etc. -o-
you will never understand how retarded is that. -o-
outdoor toilet. :]
yam seng. the uncle on the far right always say YAMMM~ den stop. -o-
pop.
i saw sis in law saying to bro 手酸.
hehehe. sis in law was suppose to sing her way towards bro. but she forget the lyrics and her singing.. is not that good. and bro keep suaning her. xDD
both of them are really really sweeeeeeeeeeet. bro met sis in law in their secondary school. before he change from dunman to THAT secondary school. but they didnt get together. until 18 or 19. and my brother has centre parting that time. :]
its a super long post. and i think its too wordy.
hehehe
byebye.